Another Sunday, another review. Today will be a Japanese song since last week I had featured a relatively unknown Korean song which I recommend to anyone interested in Korean music or Indie. Today's song is different in the fact that some may know this song from the anime Durarara as the second opening of the first season. I had the pleasure of completing the first season this past week after finally getting around to the anime which had first piqued my interest all the way back in 2012 when it was fairly new. I hope to get to the next season within the next few days (Thank you, Netflix!).
Despite being more than 5 years old, Durarara is still an anime many should watch especially since it has such an array of characters to feel connected to along with a story line that keeps you engaged and binge-watching episode after episode. This opening contrasts the first opening where as you can see the setting was brighter with the characters appearing more care-free leading their lives in decent peace. Even the song, Uragiri no Yuuyake (English: Treacherous Sunset) sounds more upbeat and laidback with a fun edge. Contrast that to Complication which sounds darker and filled with more angst against a greyer and bleaker backdrop of the characters in the opening. Both openings will serve as a way to set the tone and the mood for the episodes of the season. I think this is what allured me to both openings, Complication specifically.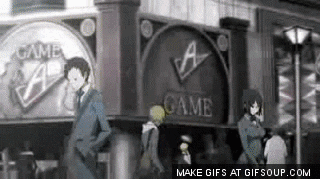 While I do recommend Theatre Brook's Uragiri No Yuuyake; however, let me finally introduce the band behind Complication–ROOKIEZ is Punk'd, a Japanese rock band operating mainly around the Shibuya area. Still, for any anime connoisseurs, you've probably heard some of their other songs in anime like Blue Exorcist and Bleach. They definitely get around as they are currently trying to expand nationally and internationally as well. One of the three members, Shinnosuke, who is also the main vocalist, acts as a model as well which is quite an accomplishment. Definitely check them out if you like their hard rock sound combining heavy use of the drums and guitars. If you want to learn more about them, check out there official website, the band's biography is in both Japanese and English amazingly.
Admittedly, I won't spend that much time writing out how the melody of the song sounds like. I just want you to listen to it this time. Listen while you're reading this review or some of my other content. Or if my content is too subpar (which I admit it is) than listen to it while reading other WordPress users content. Whatever works for you. I will just leave some lyrics from Complication that resonates with me in some way. Please enjoy your Sunday afternoon 🙂
Worrying that everything might break
I fear tomorrow
But I know that I won't find any answers
by looking at the day after tomorrow
What will I draw on the blank canvas of tomorrow that stretches endlessly?
What will I draw on the black canvas of tomorrow that's been dyed by reality?
With struggle, it will shine
Complication PV (sorry no English subtitles this time)
Side note: There is actually another version of Complication called the Still Struggle version. It is basically the same as its original though it carries a more harder rock sound especially in the beginning. Check it out as well, if you wish.